Second day in Trieste for Men's Water Polo Olympic Games Qualification Tournament. Follows scoresheet, report and flash quotes.

DAY 2 Results - Monday 4th April
(B) KAZ-NED 5-8 (0-3, 2-2, 2-2, 1-1)
(B) GER-ESP 5-9 (1-1, 1-0, 2-4, 1-4)
(A) CAN-HUN 14-14 (3-4, 4-4, 4-5, 3-1)
(A) ROU-FRA 11-12 (4-3, 3-3, 3-4, 1-2)
(A) RUS-SVK 7-4 (2-0, 3-3, 0-1, 2-0)
(B) ITA-RSA 22-3 (5-1, 6-0, 7-1, 4-1)

Rankings. Group A: Canada and Hungary 3, Romania, France e Russia 2, Slovakia 0. Group B: Netherland and Italy 4, Germany and Spain 2, South Africa and Kazakhstan 0.
Kazakhstan-Netherlands 5-8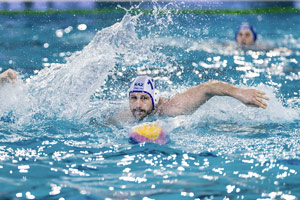 Kazakhstan: Fedorov, Gubarev 1, Zhardan, Pilipenko 1, Ushakov, Shmider 2 (1 pen.), Shakenov, Verdesh, Ukumanov 1, Rekechenkiy, Aubakirov, Pekovich, Shelemov. Coach Drozodov.
Netherlands: Wagenaar, Frauenfelder 1, Winkelhorst 1, Van Der Horst, Gielen 3 (1 pen.), Lindhout 3, Gottemaker, Reuten, Van Den Bersselaar, Spijker, Koopman, Lucas, Hoepelman. Coach Van Galen.
Referees: Alexandrescu (Rou) and Terpenka (Can).
Note: periods 0-3, 2-2, 2-2, 1-1. Exclusion with substitution Ushakov (K) in the third time. Goal in exKtra player: Kazakhstan 1/8 + one penalty e Netherlands 4/10 + one penalty.

Report. Netherlands beats Kazakhstan 8-5 but it does not shine. Dutch run the 3-0 break packaged by Lindhout (2) and Winkelhorts in the first half, they reach half time on 5-2, then 7-3 with extraplayer gol and penalty gol by Gielen in third period. Only Shmider and Lindhout move the result in the last quarter. For Netherland is the second success. Best scorers Gielen and Lindhout that mark three goals.
Van Galen (coach Netherland). "We try to concentrate game by game, day by day. It's a very strong and tough tournament because we play eight matches in eight days. We must keep our physical conditions. I'm very happy. We won two times and we have a good situations of ranking but tomorrow we will be against a very strong team like Germany and so we have to do our best. Today ee controlled the game, 3-0 ahead, after that it was very difficult because the Kazakhstan played better, and it was difficult to reach our centre".
Frauenfelder (Netherlands): "I think it was a tough match. In the beginning we came ahead 3-0 but they keep coming back in the match, they scored goals also. We missed some shots sometimes and we could take more distance. i think that the Italian team will be the group winner because they are the best. We hope to arrive at second place thanks to the victory against Spain".
Pekovich (Kazakhstan): "Netherlands won playing really well. Today they defeated us and yesterday Spain. Netherlands plays very united but It isn't a surprise. Its difficult say what we lack to reach their level. Kazakhstan is investing in sports but to get to a high level need more time, especially to get in the top ten teams".
Germany-Spain 5-10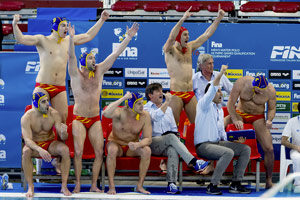 Germany: Kong, Bukowski, Schlanstedt, Real 2, Preuss, Jungling, Nossek 2, Schuler, Stamm, Cuk, Restovic, Eidner 1, Hohne. Coach Weissinger.
Spain: Aguilar Vicente, Munarriz Egana 1, Bustos Sanchez, Alarcon Tevar, Molina Rios 4, Minguell Alferez, Sziranyi Somogyi, Espanol Lifante 1, Tahull Compte, Fernandez Miranda 2, Mallarach Guell, Echenique Saglietti 2, Lopez Pinedo. Coach Hernandez.
Referees: Szekely (Hun) and Naumov (Rus).
Note: periods 1-1, 1-0, 2-4, 1-5. Red card for Stamm (G) in the first time. Real (G) hits the post on penalty and Kong (G) saved penalty shot by Rios (S) in in first time; Echenique Saglietti hits the post on penalty in third time. Goal in extra player: Germany 0/7 + one penalty and Spain 1/6 + 2 penalties.

Report. Remuntada of Spain that, under 3-1 and 4-3, overturns the result at the end of the third time (5-4) and lengthens on 10-5 in fourth period. Best scorer of the match is Molina with 4 goals. The teams wrong a lot of opportunities in extramen: null by Germany with one mistake on penalty; only one gol for Spain and two mistakes on penalties.
Espanol Lifante (Spain): "Yesterday we played very badly, we played a bad game and we didn't anticipate it. Today we started with a lot of pressure marking only one goal, after that we ended the game improving. It's very important solve the pressure born with the game against Netherland".
Hernandez (Coach Spain): "After defeat against Netherlands, the tournament has become a nightmare. The victory against Germany was very important to regain lost trust. What we couldn't do yesterday, we did it today. Tomorrow we face Italy in a difficult and important game. We have to stay focused".
Real (Germany): "We started very well and we were winning. Then Spain begun play more aggressive. The match of tomorrow against Netherlands is very important and we have to win for ranking".

Weissing (coach Germany): "It was a good match, a good game, there was no problem until red card by Stamm. For Spain it could had been an advantage. For us is most important to get a good result tomorrow and we are preparate for that".
Canada-Hungary 14-14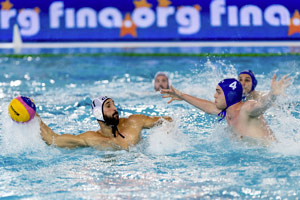 Canada: Aleksic, Kubada, Vikalo 2, Constantin Bicari 4, Boyd 1, Robinson, Lapins, Graham 3 (1 pen.), Radojcic, Conway 3 (1 rig.), Torakis 1, Mcelroy, Randall. Coach G. Porzio.
Hungary: Nagy, Zalanki, Manhercz 3 (1 pen.), Erdelyi, Vamos 2, Hosnyanszky 2, Decker 1, Szivos 1, Dan. Varga 3, Den. Varga 1 (pen.), Bedo, Harai 1, Bisztritsanyi. Coach Benedek.
Referees: Peila (Usa) and Willis (Rsa).
Note: periods 3-4, 4-4, 4-5, 3-1. Attendance 200. In the third exclusion with substitution for Robinson (C) e in the fourth time exclusion with substitution fo Decker (H). Goal in extra player: Canada 4/6 + 2 penalties and Hungary 6/14 + 2 penalties.

Report. Two goals by Daniel Varga in two minutes cheat the game. Canada reacts and took the lead (5-4) with two goals by Graham at beginning of second half. Hungary overturns the result with goals by Hosnyanszky in power play, Decker and Vamos for 7-5, but Canada ties on 7-7 and goes ahead on 9-8 with goals by Bicari in extraman and Torakis. The score remains in the balance until at 10-10 when Szivos and twice Manhercz in extraman bring Hungary on 13-10 at 7'09 of third period. But Canada will not give up and catches the 14-14 in the last two minutes of the game with a penalty shot by Graham ad a shot in extra player by Conway.
Porzio (coach Canada): "It was a tough match because the Hungary is of a higher level than us, but we played strengthly. At the beginning we were 4-3 with five exclusions. We had been often a goal down, but at the end we obtained this result because we never given up".
Constantin Bicari (Canada): "I feel good because I scored four goals, but now we must get prepared fo the next match. This game is a good step because Hungary is one of the best teams in the world, with a lot of experience. Our coach gave us his experience and we respect him for this".

Benedek (coach Hungary): "We were not strong in defense as we are, it's important that it will not happens again. We suffer a lot of goals but scored any more. We have to do better".

Hosnyanszky (Hungary): "Today our defense was worse than yesterday. We suffer 14 goals and it's too much for us so we have do to better. We have lost two points on ranking but it's still too early to tell anything".
Romania-France 11-12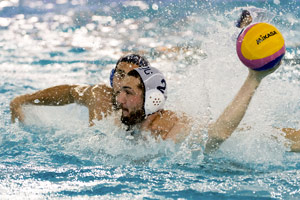 Romania: Stoenescu, Radu 2, Negrean 2 (1 pen.), Gheorghe 2, Oanta, Busila, Teohari 1, Chioveanu, Goanta, R. Szabo 3, Ghiban, Popoviciu 1, Tic. Coach Stanojevic.
France: Garsau, Saudadier 2, Kovacevic 2, Blary, Khasz 1, Simon, Crousillat 5, Izdinsy, Marzouki, Peisson, Tomasevic 2, Camarasa, Noyon. Coach Bruzzo.
Referees: Stavridis (Gre) and Hantschel (Ger).
Note: periods 4-3, 3-3, 3-4, 1-2. Exclusion with substitution Tomasevic (F) in the third time. Goal in extra player: Romania 1/4 + one penalty and France 5/6.
Report. France remains ahead until 3-2, then suffers the return of Romania that goes on 4-3 with goals by Gheorghe and Szabo. After 21 seconds of third period Romania reaches +2 for the first time with an action gol by Radu for 8-6, but Tomasevic score the 9-9. In the fourth period France comes back ahead on 12-11, with goals by Crousillat in extra player and Kovacevic, and keep the advantage until the end of the game. The best scorer of the match is Crousillat with five goals.
Bruzzo (coach Francia): "It was an hard game with a lot of stress. In this match there are a lot of mistakes. From the next games I aspect less mistakes".
Crousillat (Francia): "It was a very difficult game because Romania was ahead of two goals, we fought and I'm happy for victory. This was a very important match. I imagine the next games like very strenuous infact we have to take rest and we have to study very well".
Radu (Romania): "We started well the game today. We were ahead until the beginning of the fourth period, but then we made a lot of mistakes. The next game will be very difficult because Hungary is tough, but we'll try. I think it will be difficult to foretell who will win the quarter finals, we will play until the end for the qualification to the Olimpic games".
Russia-Slovakia 7-4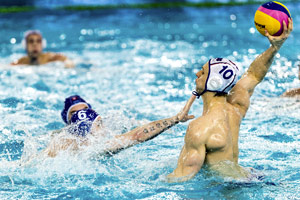 Russia: Fedotov, Giniiatov 2, Odintsov, Merkulov, Kharkov, Krasnov, Khalturin 2, Balakirev 1, Bychkov, Kholod 2, Lisunov, Magomaev, Korneev. Coach Shagaev.
Slovakia: Kozmer, Famera, Zatovic, Furman, Durik, Balaz, Seman 1, Tkac, Uradnik, I. Szabo, Kolarik 3, Bruder, Hruska. Coach. Esteller Serrahima.
Referees: Putnikovic (Srb) and Gomez (Ita).
Note: periods 2-0, 3-3, 0-1, 2-0. Attendance 400. Exclusion with substitution Odintsov (R) in fourth time. Goal in extra player: Russia 1/5 and Slovakia 1/7.
Report. Russia ended the first half 2-0 and run the advantage keeping a distance Slovakia that approaching 2-1, 3-2, 4-3, 5-4. Then goes on the +3 in the fourth time (7-4) with twice gol by Giniiatov. Kolaric scored three goals, but not enough to change the match.
Apanasenko (assistant coach Russia): "After the lost against Canada we needed an important victory. I hope that tomorrow we will be enough prepared to play against France. Today we played without our first center Lisunov because he had poblems at heardrum. So we had to play for eachoter and also for him. Our aim it's to reach the Olympic Games. Tomorrow it will be the decisive match".
Kholod (Russia): "This win makes me think positively about the tournament, but we have to win minimum two of the next three matches. Surely it will be more simple to win against France and Romania. Against Hungay it will be tough but we will do our best. Now we lost our first center Lisunov. What we need is much more energy. We play for our nation and for other guys".
Esteller Serrahim (coach Slovakia): "We didn't have the control of the match, and we made two big mistakes in the last minutes. This tournament is difficult because we have to play every day. But it's a great experience to be here, and we will always try to improve ourselves".

Kolarik (Slovakia): "It was a very hard match. Russian team is very strong, they are great swimmers and we lost three times the ball in attack. We will try and fight untill the end".

Italy-South Africa 22-3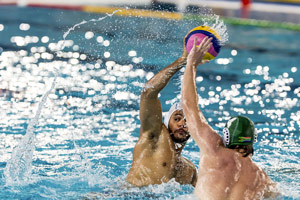 Italy: Tempesti, F. Di Fulvio 1, N. Gitto 2, Figlioli 1, Giorgetti 3 (1 pen.), Bodegas 1, Velotto 4, Nora 3, C. Presciutti 2, S. Luongo 1, Aicardi 1, Baraldi 3, Del Lungo. Coach Campagna.
South Africa: Lewis, Card, Brown, Rumbelow, Downes, Schooling, Rabie 1, Rodda 1, Evezard 1, Purchase, Molyneux, Jagga, Madi. Coach Martin.
Referees: Koryzna (Pol) and Bouchez (Fra).
Note: periods 5-1, 6-0, 7-1, 4-1. Attendance 800. Goal in extra player: Italy 8/12 + one penalty and South Africa 2/8.
Report. Italy rules the game. South Africa scored three goals with Evezard in power play for the 1-1, Rodda for the 18-2 and Rabie for the 22-3 in extraman, the last gol of the match. Settebello scoring with all outfield players. Velotto is the best scrorer with four goals.
Campagna (coach Italy): "It 's always difficult to face these teams because you are likely to make a bad impression. We entered late into the game; then we played easy. It was important sparing energies for the next matches. From tomorrow we must play against Spain, Netherlands and Germany and begin to understand the possible quarter-finals. Hungary's result does not surprise me. I knew that Canada could make suffer them but don't thought scored fourteen goals. This shows that there is substantially balanced and nothing is obvious".
Del Lungo (Italy): "This are games where you have to train concetrazione and attack and in defense strategies. We found the right feeling after few minutes. Now we have three tough matches very important about the quarter-finals".
Evezard (South Africa): "The match was tough. We had a few good moments, it was positive. Tomorrow we play against Kazakistan. It's a fresh start. It's a great experience to be on this tournament and we are enjoying it".
photo by Giorgio Scala / deepbluemedia.eu