Third day in Trieste for Men's Water Polo Olympic Games Qualification Tournament. Follows scoresheet, report and flash quotes.

Rankings. Group A: Hungary and Canada 5, Francia 4, Romania and Russia 2, Slovakia 0. Group B: Netherland 6, Italy and Spagna 4, Germany and Kazakhstan 2, South Africa 0.

Day 3 - Tuesday 5 April
(A) HUN-ROU 12-8 (4-2, 2-3, 4-1, 2-2)
(A) SVK-CAN 9-11 (2-2, 1-5, 3-2, 2-1)
(A) FRA-RUS 12-11 (3-2, 5-5, 2-2, 2-2)
(B) NED- GER 9-8 (2-1, 2-2, 3-3, 2-2)
(B) RSA-KAZ 6-11 (3-2, 2-3, 1-4, 0-2)
(B) ESP-ITA 9-8 (4-1, 2-3, 1-3, 2-1)
Hungary-Romania 12-8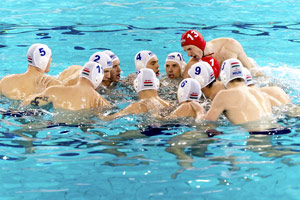 Hungary: Nagy, Zalanki 1, Manhercz 1, Erdelyi 1, Vamos 1, Hosnyanszky 1, Decker, Szivos 4, Dan. Varga, Den. Varga 2 (1 rig.), Bedo, Harai 1, Bisztritsanyi. Coach Benedeck.
Romania: Stoenescu, Radu, Negrean 3, Gheorghe 1, Oanta, Busila, Teohari 2, Chioveanu 1, Goanta, R. Szabo, Ghiban 1, Popoviciu, Tic. Coach Stanojevic.
Referees: Gomez (Ita) and Smit (Ned).
Note: periods 4-2, 2-3, 4-1, 2-2. Attendance 200. Exclusion with substitution Ghiban (R) in the third period. Goal in extra player: Hungary 4/7 + 1 penalty and Romania 2/7.
Report. Hungary stars very fast. Goes ahead on 4-1 with goals by Harai and Szivos, Erdelyi and Hosnyanszky in extra player. Than manage the advantage and reaches 5-2 with penalty shot by Denes Varga. But Romania scores three goals in a row by Negrean twice in power play and Chioveanu and come back on 5-5. Hungary do not feeling the pinch and goes on 9-5 with action goals by Vamos, Zalanki, Denes Varga and Szivos in extraman. In the last period the Magyars play the possession until 30 seconds and close on 12-8 making some mistakes in defense.
Benedek (coach Hungary): "The reaction was positive. The problem arises when we go at a disadvantage and the team gets nervous. Despite Romania approached us we are not disunited. In this tournament a lot of matches dependent by one or two shots. We must be perfect".
Negrean (Romania): "I'm happy because I scored three goals but I'm sad because we lost the game. We start very well, we tried to win. We knew it would be an hard game against Hungary. I feel good about this tournament, it's very nice and the organization is amazig. I visit the city. I saw the pool. Congratulations about that".

play by play
Slovakia-Canada 9-11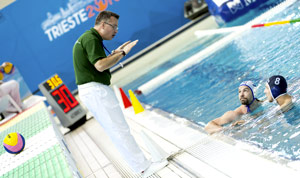 Slovakia: Kozmer, Famera 1, Zatovic, Furman, Durik, Balaz, Seman 1, Tkac 2, Uradnik 2, I. Szabo, Kolarik 1, Bruder 1 (pen.), Hruska. Coach Esteller Serrahima.
Canada: Aleksic, Kubada 1, Vikalo 1, Costantin Bicari 2, Boyd 2, Robinson, Lapins, Graham, Radojcic, Conway 2 (2 pen.), Torakis 2, Mcelroy, Randall. Coach Porzio.
Referees: Koryzna (Pol) e Hantschel (Ger).
Attendence 300. Red card for McElroy (C) in the fourth time. Exclusion with substitution Boyd (C) and Durik (S) in the third time, Torakis (C) in the fourth time. Goal in extra player: Slovakia 6/11 + 1 penalty and Canada 3/8 + 2 penalties.
Report. Canada suffers the beginning, then takes off with three goals in a row by Bicari in power play, Cubada and Vikalo and goes on 7-3 at half match. Slovakia backs on -2 (8-6) but Conway on penalty shot and Torakis at 4'52 of the last period finishing (10-6) (10-6) steer the game.
Esteller Serrahima (coach Slovakia): "We suffered the second period, we were disconected. This match were very difficult. I hoped to get to the quarter-finals, but we need a lot of training more. In my team I have two player very young, under eighteen".
Famera (Slovakia): "We started very good but we lost second period 5-1. We stopped to defend. We wanted to win the first three matches. Now our tournament maybe is finish because we have to play against France and Hungary. It will be hard for us".
Porzio (coach Canada): " I must say the truth, this game was the most difficult one because we had a very good classification instead for the Romania it was the last chance to stay in this tournement. It wasn't easy to win, the Romania did it well until the last second. We knew that we played against a good team and that they will give all the best today. We played well and we managed the score. This wasn't never easy in a international tournament. For us it was very important to reach the quarter finals"

Boyd (Canada): "I'm glad that we won but we needed to play a little bit better. It's good because we gotta win and we can learn from it and practise and prepare us for tomorrow. We knew they gonna try very hard, they did and now we move on to our game tomorrow."
France-Russia 12-11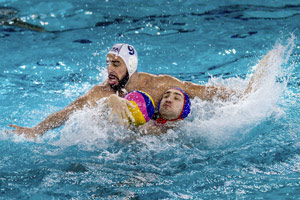 France: Garsau, Saudadier, Kovacevic 1, Blary 1, Khasz, Simon, Crousillat 4, Izdinsky 1, Marzouki 3, Peisson 1, Tomasevic, Camarasa 1, Noyon. Coach Bruzzo.
Russia: Fedotov , Giniiatov 1, Odintsov, Merkulov 2, Kharkov, Krasnov 1, Khalturin 4, Balakirev, Bychkov, Kholod 1, Lisunov 1, Magomaev 1, Korneev. Coach Shagaev.
Referees: Peila (Usa) and Galindo (Esp).
Note: periods 3-2, 5-5, 2-2, 2-2. Attendance 300. Exclusion with substitution Khalturin (R) in the third time and Odintson (R) in the fourth time. Goal in extra player: France 3/6 and Russia 3/9 + 1 penalty.
Report. Russia goes on 2-0, then takes three goals but backs ahead on 4-3 and 5-4 with the fourth goal by Khalturin. The score is always fluctuating. France goes on 8-5 with twice by Crousillat and Marzouki; Russia answers with Kholod in power play, Lisunov and Krasnov for 9-8. But France back ahead on 11-9 with goals by Crousillat and Kovacevic in extra player and Blary. Russia tie with two goals by Merkulov, but Izdinsky marks the decisive goal in extraman at 5 seconds to finish.
Bruzzo (coach France): "These international tournament are special; they are the qualification for the olympic games. So you must be ready, you must fight until the last second and you must never surrender. If we win tomorrow we'll be qualificated for quarter finals. Today we got a great possibility, but it's not finished".
Camarasa (France): "We are very happy for this tough victory, Russia's players are physically strong and are very good swimmers. We played as a united team and that made the difference. We learn from Hungary to play as a team and not individually. It decreased the psychological pressure. Now we have to forget this victory and think about the match of tomorrow against Slovakia that is very important to go at quarter finals".
Shagaev (coach Russia): "We expected that the match of today would be so difficult. We are disappointing because we lost for just a goal in power play at 5 seconds before the end. We could have managed better the advantaged situations".
Netherlands-Germany 9-8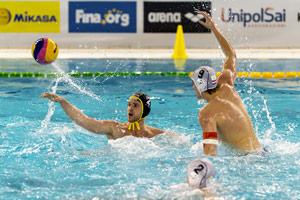 Netherlands: Wagenaar, Frauenfelder 2, Winkelhorst 1, Van Der Horst, Gielen 1, Lindhout 2, Gottemaker, Reuten, Van Der Bersselaar, Spijker, Koopman 2, Lucas 1, Hoepelman. Coach Van Galen.
Germany: Kong, Bukowski 1, Schlanstedt 1, Real, Preuss 1, Jungling, Nossek 2, Schuler, Stamm 1, Cuk, Restovic 1, Eidner 1, Hohne. Coach Weissinger.
Referees: Alexandrescu (Rou) and Naumov (Rus).
Note: periods 2-1, 2-2, 3-3, 2-2. Attendace 350. Red card by Van der Berssellar (N) in the third time. Exclusion with substitution Nossek (G) in the third time. Goal in extra player: Netherlands 2/7 + 1 penalty and Germany 2/7.

Report. The first tear is of the Germany which goes on 6-4 with goals by gol Bukowski in extraman and Nossek; but the answer of Netherlands is strong: three goals in a row by Gielen in extraman, Frauenfelder and Lindhout for 7-6 of the third period. In the last 8 minutes Netherlands legitimate success with goals in power play by Winkelhorst for 9-7 at 53 seconds before the end of the game. Useless the 9-8 by Schlanstedt in extra player.
Van Galen (coach Nederlands): "It was a very important for both of the countries to win beacause we are neighbours. We know Germany very well and they know us. We trained a lot togheter so it was more than just a match. I'm very happy for the result and I think we are at least second place which is a good ranking for the quarter finals crossing of Wednesday. Italy is really stronger than us but we'll play match for match. We have a lot of supporter in public so it is a big emotion for every players who trained 20-25 a lot".
Koopman (Netherlands): "The game was very hard and special, because they are our neighbours. We were nervous at the beggining, but then we contolled the game untill the third period, we did a great job. We didn't have any expectation. We wanted to try and do our best; but now we are close to the final games: just three more games and we'll see what is going to happen".

Weissinger (coach Germany): "Of course we are very disappointed because we lost the most important game for us until now. We didn't play well, so the score was correct like that. Neederland has been the more clever team. Now we have to live what hapen to us".
South Africa-Kazakhstan 6-11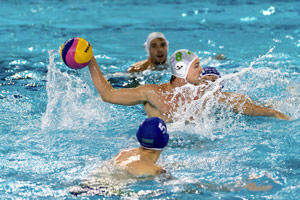 South Africa: Lewis, Card, Brown, Rumbelow, Downes, Schooling 1, Rabie, Rodda 1, Evezard 2, Purchase, Molyneux 1, Jagga 1, Madi. Coach Martin.
Kazakhstan: Fedorov, Gubarev 1, Zhardan 1, Pilipenko, Ushakov 1, Shmider 1, Shakenov, Verdesh, Ukumanov 2, Rekechenskiy, Aubakirov 1, Pekovich 4, Shelemov. Coach Drozodov.
Referees: Terpenka (Can) e Szekely (Hun).
Note: periods 3-2, 2-3, 1-4, 0-2. Fedorov (K) saved penalty shot by Evezard (S) in the second period. Exclusion with substitution Pilipenko (K) in the fourth period. Goal in extra player: South Africa 2/8 + 1 penalty and Kazakhstan 3/7. Attendance 400.

Report. Several times below in scoring (1-0, 4-2, 5-4), Kazakhstan places the decisive break in the third time: goes on 7-5 with goals by Zhardan and Pekovich (2) and then reaches the 9-6 with goal by Ushakov and again Pekovich. In the last period arrrive the goals by Ukumanov, Aubakirov in extra player for the final 11-6.

Martin (coach South Africa): "It's a beautiful performance by our team and before the half time we were very competitive. We have played in the right way. Tomorrow we'll play against Spain, it will be a very good experience. We never play against them".

Speech Pekovich (Kazakhstan): "We won and that's the most imoprtant thing. Tomorrow we'll play against Germany, it'll be tough, but we'll try to get a good result".
Spain-Italy 9-8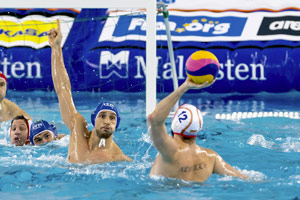 Spain: Aguilar Vicente, Munarriz Egana 1, Bustos Sanchez, Alarcon Tevar, Molina Rios 3 (1 pen.), Minguell Alferez 1, Sziranyi Somogyi, Espanol Lifante, Tahull Compte 1, Fernandez Miranda 1, Mallarach Guell, Echenique Saglietti 2, Lopez Pinedo. Coach Hernandez.
Italy: Tempesti, F. Di Fulvio 3, N. Gitto, Figlioli 1 (pen.), Giorgetti, Bodegas, Velotto, Nora, C. Presciutti, S. Luongo 2 (1 pen.), Aicardi 2, Baraldi, Del Lungo. Coach Campagna.
Referees: Putnikovic (Srb) and Stavridis (Gre).
Note: periods 4-1, 2-3, 1-3, 2-1. Exclusion with substitution Minguell Alvarez (S) in the fourth time. Goal in extra player: Spain 6/9 + 1 penalty and Italy 4/10 + 2 penalties. Attendance 1200.

Report. Immediately Spain, that goes on 2-0 with goals in extraman by Molina and Tahull and then close the fist time on 4-1 with Fernandez Miranda in power play and Echnique Saglietti that answer at penalty shot by Figlioli. Spain fly on 6-2 with twice of Molina; but Italy does not give up and reaches a draw on 7-7 with four goals in row by Aicardi and Di Fulvio (3) in extra player. Azzuri pay the effort and Spain back ahead on 9-7 with goals by Minguell and Echenique in extra player at 96 second before the end. Aicardi fills the gap but it's late.
Hernandez (coach Spagna): "The obstacle of today was Italy, not only the national team, but also the spectators and the organization. Playing in Italy against Settebello is beautiful and this victory for us is very important. This week was a nightmare; every second we thought of what could happen loosing the mind. Now it will get better".
Molina (Spain): "The match was intense, we started well and we were clean in the shots. They are a great team, one of the best and it was hard to defend ourselves. We made big steps from the first match and we always want to get better".
Campagna (coach Italy): "The beginning was a disaster, we had the wrong approach to the match and the defense did not work. After we played better but it was not enough. Certainly the two previous games are served to Spain for enter with more concentrationin in the tournament. Now we must analyze the errors and put the personality to face the Netherlands in the right way from the beginning".
Di Fulvio (Italy): "We failed the approach for this match. The mister prepared well the game, but we didn't put in water his patterns. I really liked the reaction until the draw. This means that we have a strong personality because we are able to reduce a gap of four goals. For now the important thing is the match of tomorrow with Nederlands, to show that we are here and that we want to win this group."
photo by Giorgio Scala / Deepbluemedia.eu