Day of finals at the men's water polo Olympic Games qualification tournament in progress in Trieste. Follows scoresheet, report and flash quotes.
Finals - Sunday 10 April
7th place / Germany-Romania 9-10 (2-3, 2-2, 1-3, 4-2)
5th place / Netherlands-Canada 9-8 (1-2, 2-2, 4-3, 2-1)
3rd place / France-Spain 4-16 (1-4, 2-5, 0-4, 1-3)
1st place / Hungary-Italy 10-8 (2-3, 4-2, 3-1, 1-2)
Germany-Romania 9-10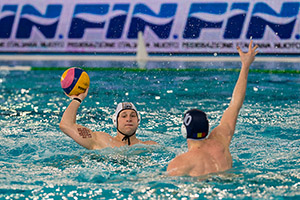 Germany: Kong, Bukowski 1, Schlanstedt, Real 1, Preuss, Jungling 2, Nossek 2, Schuler 2, Stamm 1, Cuk, Restovic, Eidner, Hohne. Coach Weissinger.
Romania: Stoenescu, Radu 3, Negrean, Gheorghe 1, Oanta 1, Busila, Teohari 2, Chioveanu 1, Goanta, R. Szabo 1, Ghiban, Popoviciu 1, Tic. Coach Stanojevic.
Referees: Smit (Ned) and Terpenka (Can).
Note: periods 2-3, 2-2, 1-3, 4-2. For the Romania Goalkeeper start number 13, Tic. Tic (R) saved penalty shot by Nossek (G) on 4-4 in the second period. Goal in extra player: Germany 1/7 + 1 penalty and Romania 2/5.
Report. Romania gets the seventh place of preolympic tournament, beating Germany with a risolutive break in the third period, when moves the score on 8-5. Then Romania manages the advantage until 10-9. Best scorer of the match is the center Radu with three goals.
Weisssinger (coach Germany): "We are not satisfied about this tournament. I'm not happy with the team. We have to think for the future and to consider a lot of change to build a better future"
Stanojevic (coach Romania): "This matches are difficult because it's hard to motivate a team to play after the lost opportunity to go to the Olimpic Games. It think it should be another way to evaluate the teams that play for the last positions".

play by play
Netherlands-Canada 9-8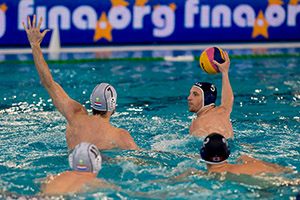 Netherlands: Wagenaar, Frauenfelder, Winkelhorst, Van Der Horst, Gielen, Lindhout 4 (1 pen.), Gottemaker, Reuten 2, Van Den Bersselaar, Spijker 1, Koopman , Lucas 2, Hoepelman. Coach Van Galen.
Canada: Aleksic, Kudaba 1, Vikalo, Costantin Bicari 2, Boyd 2, Robinson, Lapins, Graham, Radojcic, Conway 3 (2 pen.), Torakis, Mcelroy , Randall. Coach. Porzio.
Referees: Gomez (Ita) and Willis (Rsa).
Note: periods 1-2, 2-2, 4-3, 2-1. For the Netherlands goalkeeper start number 13, Hoepelman. Red card by Boyd (C) and Winkelhorst (N) in the fourt time. Exclusion with substitution Van der Horst (N) and Torakis (C) in the fourth time. Goal in extra player: Netherlands 2/9 + 1 penalty and 3/10 + 2 penalties.
Report. The final for fifth place is decided from a penalty shot by Lindhout at 4'44 of the fourth period. Previously there had been a few breaks with Canada on the advantage of 2-0, 5-3, 6-4 and Netherlands only one time ahead on 3-2. Lindhout was also the best scorer of the match with 4 goals.
Porzio (coach Canada): "If we canceled this game, I'm satisfated about our performance during the tournament. We made a good way. Today we played the worst game. We went wrong much times. We gave six goals on nine so it was deserve to loose. We must learn to always play the best possible and with the right attention. We can improve fisical, tecnical and mental skills. A long way waits us but we have a good beginning".
Lucas (Netherlands): "We are disappointed because we win six matches, but lost the quarter final and we don't go to the Olimpic games. Now we will go back to the club and we'll play the competition there and after that we'll back to work with National teams for improve our levell of the game".

play by play
France-Spain 4-16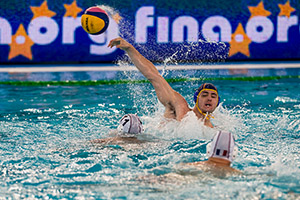 France: Garsau, Saudadier, Kovacevic 1, Blary, Khasz, Simon, Crousillat, Izdinsky 1, Marzouki, Peisson, Tomasevic 1, Camarasa 1, Noyon. Coach Bruzzo.
Spain: Aguilar Vicente, Munarriz Egana 3, Bustos Sanchez, Alarcon Tevar 2 (1 pen.), Molina Rios, Minguell Alferez 1, Sziranyi Somogyi, Espanol Lifante 1, Tahull Compte 4 (1 pen.), Fernandez Miranda 1, Mallarach Guell 2, Echenique Saglietti 2, Lopez Pinedo. Coach Hernandez.
Referees: Alexandrescu (Rou) and Naumov (Rus).
Note: periods 1-4, 2-5, 0-4, 1-3. For the Spain goalkeeper start number 13, Lopez Pinedo and for the France goalkeeper start number 13, Noyon. Goal in extra player: France 2/5 and Spain 2/4 + 2 penalties.
Report. No problem for Spain that beats easily France in the final for third place. Spain moves fast the score for 9-3 of half match with four goals by Tahull Compte. In the third period Spain puts a break again of 4-0; then manages the advantage for the final 16-4. Scored eight outfield players of Spain.
Bruzzo (coach France): "It was a hard game after the emotions of these last days. The team hasn't phisical and mental energies anymore. We don't have the programm for the Olympic games yet. We must check our budget and we'll try to organise some common trainings with others big teams".
Crousillat (France): "Today we played too easy because we are very tired. This isn't a great finish for this tournament but we'll go to Rio and that's the important thing. Now we must have rest and we'll finish the French league. Then we'll concentrate to have the best result for Rio".
Hernandez (coach Spain): "This match had no sense. Both teams dont' want to play. We'll se the draw for Olympic Games. we'll try to have a good result. We'll think just about the win".
Compte (Spain): "I hope that team will play high level because every single match will be very important in Olympic games. We have to be very strong more than we could be in an ordinary tournament".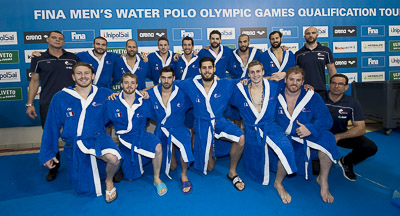 France fourth ranked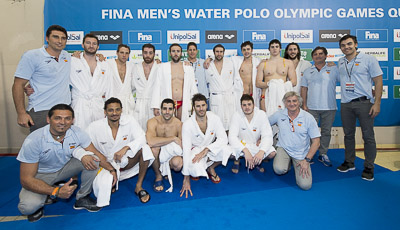 Spain third ranked
Hungary-Italy 10-8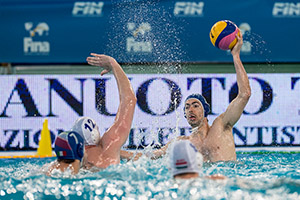 Hungary: Nagy, Zalanki, Manhercz 1, Erdelyi 1, Vamos 1, Hosnyanszky, Decker, Szivos 1, Dan. Varga 1, Den. Varga 3, Bedo, Harai 2, Bisztritsanyi. Coach Benedek.
Italy: Tempesti, F. Di Fulvio 2, N. Gitto, Figlioli 1, Giorgetti 1, Bodegas, Velotto, Nora, C. Presciutti 1, S. Luongo 1, Aicardi 2, Baraldi, Del Lungo. Coach Campagna.
Referees: Stavridis (Gre) and Koryzna (Pol).
Note: periods 2-3, 4-2, 3-1, 1-2. Red card by Bodegas (I) and Hosnyanszky (H) in the fourth time. Goal in extra player: Hungary 6/8 and Italy 3/13. Attendance 1500
Report. Magyars win the preolympic of Trieste, beating Italy 10-8. Hungary goes ahead 2-0, but Settebello answers going ahead 3-2 with goals by Di Fulvio, Presciutti in power play and Figlioli. The Magyars make the overtaking at the beginning of the second period with Daniel Varga in extaman and Harai (4-3) and hold the minimal advantage until long interval (5-4). Then lengthen the break with Szívós in extra player and Manherz (8-5). Hungary increases the advantage at the beginning of fourth period (10-6), but Italy backs up with goals by Giorgetti and Aicardi. It's not enough to change the match.
Campagna (coach Italy): "There was commitment from the boys. You can win or lose, but it's impotant to play with heart. We conceded two or three counterattacks. We had a good reaction but after has emerged tiredness. The qualifying was not easy. We must work very hard to arrive at Olympic Games in the best shape".
Daniel Varga (Hungary): "I'm satisfied to beat Italy in Trieste. But the real victory was two days ago agains Germany, this is the most important success for us in this tournament. We want to win the Olympics games".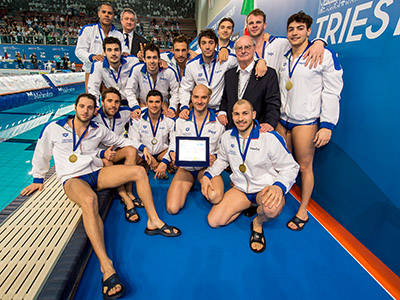 Italy second ranked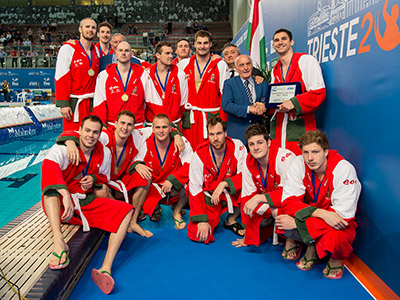 Hungary first ranked