Our journey continues, discovering the International champions that will enlighten the 54th edition of Trofeo Settecolli, taking place from 23rd to 25th June. With the Italian swimmers, there will be foreign swimmers on blocks too, from Australia, Austria, Belgium, Brazil, Czech Republic, Canada, China, Denmark, France, Germany, Greece, Great Britain, Hungary, Ireland, Italy, Japan, South Korea, Kuwait, Luxembourg, Lithuania, Malta, Holland, New Zealand, Panama, Philippines, Russia, Spain, Switzerland, Slovakia, Sweden, South Africa, Ukraine, Usa and Vietnam. The South African Chad Le Clos and the South Korean Tae Park.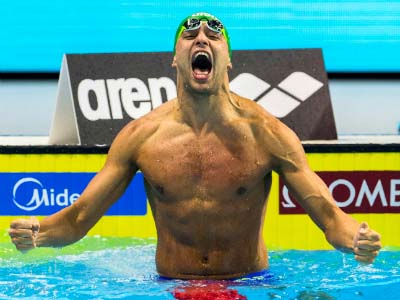 Chad Le Clos was born in Durban, in South-Africa, on 12th April 1992. He is the most loved sportsman in his country, where he received several recognitions for giving prestige to his country in the world. He definitely confirms his skill in 2012 at Olympic Games in London winning the gold medal in 200m-butterfly with the time of 1'52"96, ahead Michael Phelps, and the silver medal in 100m-butterfly. Last year, at Rio Games he wins the silver medal in 200m-freestyle and in 100m-butterfly: the disappointment for loosing the gold medal is huge. From the beginning of 2017, he is trained in Cape Town by the Italian technician Andrea Di Nino. Italy is his second country: he often trains in Caserta during the year. He conquered four medals in long course at the World Championships (three gold and one silver medals) and eleven in short course (9 gold-three in Windsor 2016 in 50m, 100m and 200m-butterfly- and two silver medals). Until the age of seven years, he had the passion also for soccer but he left it: but he is still a great fan of Manchester United.
Tae-Hwan Park was born in Seul, the capital of South Korea, on 27th September 1989. A great carrier for this son of artists: his father plays sax and his mother was a classical dancer, very appreciated in Korea. Seven international medals between 2007 and 2011: four Olympic medals (gold in 400m and silver in 200m-freestyle in Beijing 2008; silver in 200m and 400m-freestyle in London 2012); three World medals (two gold in 400m-freestyle in Melbourne 2007 and Shanghai 2011). Then, a long dark period until March 2015 getting the doping disqualification of 18 months because of his positivity to testosterone. At the end of a long legal fight involving also the Tas (Tribunal Arbitral du Sport), Park, initially left out the Olympic Games in Rio 2016, he participates in the Games but he is not on top of his performance. Not qualified in the finals at Olympic Aquatics Stadium in 200m and 400m-freestyle, he considered the Games in Brazil such as a personal liberation to find his feelings again and to reach his better performance found at the last World Championships in short course in Windsor where he gets three gold medals winning in 200m, 400m and 1500m-freestyle, ranking ahead Gregorio Paltrinieri.