The sixth day of the men's water polo Olympic Games qualification tournament assigns at Hungary, Spain, France and Italy the last passes for Rio de Janeiro. The four teams reach Australia, Brazil (as host), Croatia, Greece, Japan, Montenegro, Serbia, USA that had already secured a place. Follows scoresheet, report and flash quotes.

Quarter finals - Friday 8 April
(31) 1A Hungary-4B Germany 8-7 (1-0, 4-2, 2-1, 1-4)
(32) 2A Canada-3B Spain 7-8 (1-2, 2-2, 0-3, 4-1)
(33) 3A France-2B Netherlands 12-11 after penalties (1-3, 2-1, 2-2, 3-2; 4-3)
(34) 4A Romania-1B Italy 7-8 (0-2, 3-2, 3-3, 1-1)

Semi finals - Saturday 9 April
(35) 16:00 L31 Germany-L33 Netherlands
(36) 17:30 L32 Canada-L34 Romania
(37) 19:00 W31 Hungary-W33 France
(38) 20:30 W32 Spain-W34 Italy

Finals - Sunday 10 April
7th place / 11:00 L35-L36
5th place / 12:30 W35-W36
3rd place / 15:30 L37-L38
1st place / 17:00 W37-W38

Hungary-Germany 8-7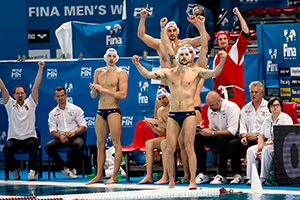 Hungary: Nagy, Zalanki, Manhercz 2, Erdelyi 2, Vamos, Hosnyanszky, Decker, Szivos 1, Dan. Varga, Den. Varga 3 (2 pen.), Bedo, Harai, Bisztritsanyi. Coach Benedek.
Germany: Kong, Bukowski 2, Schlanstedt, Real 1, Preuss, Jungling, Nossek 2, Schuler, Stamm, Cuk 1, Restovic 1, Eidner, Hohne. Coach Weissinger.
Referees: Peila (Usa) and Alexandrescu (Rou).
Note: periods 1-0, 4-2, 2-1, 1-4. Exclusion with substitution Stamm (G) in the second time and Szivos (H) in the fourth time. Goal in extra player: Hungary 3/6 + 2 penalties and Germany 3/12. Attendance 400.

Report. Hungary is the ninth team qualified to water polo Olympic Games. Beats Germany 8-7 with a break of 3-0 in the first 11 minutes and 17 seconds. Markings by Erdelyi and Manhertz in extra player and Denes Varga on penalty. Germany goes back twice on less two (3-1, 4-2). But Hungary reaches the score of 7-2 with goals by Erdelyi and Denes Varga before on second penalty and then in power play. Only at the end of the third time Germany backs to score with Bukowski in extra player (7-3). In the last period Manhercz marks in extra player the 8-3 but Germania puts a break of 4-0 with goals by Nossek, Real, Restovic in extra player and Bukowski for 8-7 with 2'25 to play. Beautiful reaction but useless. Hungary resists and goes to the Olympics.
Weissinger (coach Germany): "We are very angry about how we started the game. Then we have reacted and have been very unlucky. We deserved at least penalty shootout, or even more. However it was a good game. Now we will work on young players and will prepare for the next Olympic games in Tokyo".
Nossek (Germany): "It's difficult to say what went wrong. I think we played well in the first and fourth periods and not in the middle of the match. At least Hungary tougth that they had alraedy won but we filled the gap. I missed the last shot. I wanted to do a lob. it's hard to us accept the defeat. In a tournament We did not play well, but today we played one of the best match like national team against one of the biggest teams in the world. This is my last tournament and it's a pity that it goes like that but life goes on".
Benedek (coach Hungary): "The tension is always high. We have demonstrated for three quarters that we were clearly stronger. The forth quarter has been very difficult but I know that this kind of situation can occure sometimes. I'm very happy for our qualification, for me, but especially for the team. We have made things very important these last three years. I can't imagine the Olympic Games without Hungary".
Denes Varga (Hungary): "This match was hard. Germany is a very good team but we had the game in our hands. The advantage of the beginning was worthwhile in the end. From Rio I aspect this kind of matches with equality. At Olympic Games will be only strong teams".
Daniel Varga (Hungary): "I'm satisfated for the qualification. That was our main goal. Of course it was a hard match. The Olympic Game are a dream of everyone."

play by play
Canada-Spain 7-8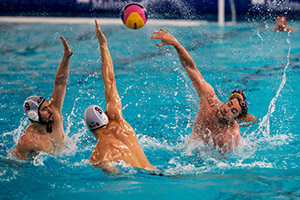 Canada: Aleksic, Kubada 1, Vikalo, Costantin Bicari, Boyd 2, Robinson, Lapins, Graham 1, Radojcic, Conway 1, Torakis, Mcelroy 2, Randall. Coach Porzio.
Spain: Aguilar Vicente, Munarriz Egana, Bustos Sanchez, Alarcon Tevar 1, Molina Rios 3 (2 pen.), Minguell Alferez, Sziranyi Somogyi, Espanol Lifante 1, Tahull Compte, Fernandez Miranda, Mallarach Guell 1, Echenique Saglietti 2, Lopez Pinedo. Coach Hernandez.
Referees: Putnikovic (Srb) and Szekely (Hun).
Note: periods 1-2, 2-2, 0-3, 4-1. Exclusion with substiution Bustos Sanchez (S) and Torakis (C) in the third time and Munarriz Egana (S) in the fourt time. Goal in extra player: Canada 4/13 and Spain 3/8 + 2 penalties. Attendance 1000.

Report. Spain goes under 1-0 to a goal by Graham in power play, then goes ahead at 2-1 with two goals by Molina. In the second half, before undergoing the same in Canada with Boyd, then Spain reaches on 4-2 with goals b y Alarcon and Molina on penalty. Canada backs on less one with Boyd (4-3), but in the third period loses the contact. Spain puts a decisive break scoring thee goals in a row by twice Echenique and Mallarach in extraman (7-3). In the last period Spain slows and Canada decreases the gap until the final 8-7 with last goal by Graham at 2 seconds before the end. Spain is the tenth team qualified to Olympic Games.
Hernandez (coach Spain): "Spain is in the Olimpic games. We knew it would be difficult because it is not a simple tournament but something more. We suffered until the end but players were very good. We reached an advantage of 4 goals which give us everything. The tournament started with a lost against Netherland but the success against Italy gave us all the trust we needed to arrive at the end like a united team. I've never suffered like this in my life and maybe players too. Now we have to grow up and we are very happy. At the end it wasn't a final, it was everything but not water pool. Players were blocked but I can't find a way to explain this technically. I always have the fortune to qualify without play a pre-Olimpic tournament so I don't know what it means partecipate as a player but as a coach it's wonderful and hard".
Molina (Spain): "The Olimpic Games are the final goal we wanted at the begginig of the season; we are very happy, it was a difficult road. The fist defeat of this tournament made us wake up and after that we played better. Canada is a strong team. They showed that in this tournament. I'm very satisfied about this success".
Espanol Lifante (Spain): "This match has put a lot of pressure, we played the work of an entire sports carreer. Going to Olympics games is the result of the work of a lifetime. In Rio de Janeiro our goals are the medals".
Porzio (coach Canada): "It was a beautiful experience. We played quite good all the time. Today there were a big tension and emotions. We were often wrong in extra play. We shaked out at the end by now the game was lost. The team with more talent and experience won. It's important for the waterpolo that no european teams managed to this level. Lose for one goal against the big Spain is a good beginning."
France-Netherlands 12-11 after penalties (8-8 after fourth time)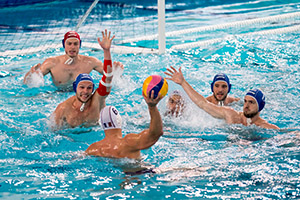 France: Garsau, Saudadier, Kovacevic, Blary, Khasz, Simon 1, Crousillat, Izdinsky 1, Marzouki 2, Peisson 1, Tomasevic, Camarasa 3, Noyon. Coach Bruzzo.
Netherlands: Wagenaar, Frauenfelder 1, Winkelhorst 1, Van Der Horst, Gielen 2, Lindhout 2, Gottemaker, Reuten, Van Den Bersselaar, Spijker, Koopman, Lucas 2, Hoepelman. Coach Van Galen.
Referees: Koryzna (Pol) and Gomez (Ita).
Note: periods 1-3, 2-1, 2-2, 3-2; 4-3. Penalty shootout: Lindhout (N) goal, Peisson (F) failed, Gielen (N) failed, Simon (F) goal, Gottemaker (N) goal, Crousillat (F) goal, Koopman (N) goal, Izdinsky (F) goal, Spijker (N) failed, Marzouki (F) goal. Goal in extra player: France 1/5 and Netherlands 2/5. Attendance 600.

Report. France takes the eleventh pass for Olympics Games after a thrilling match, decided on penalties shootout by Marzouki. Netherlands always ahead until five minutes before the end when starts the Camarasa's show. The forward marks three goals in a row for the first french advantage on 8-7. The Netherlands answers with an action gol by Lindhout and the match arrives at penalty shootout.
Mazourki (France): "I marked the last penalty for the victory but it's a team work. It could be another player, he would mark it too. During the game we have fought against the opponent up to the Camarasa's goal. But we didn't give up. At the end we had the possibility to win with our extra player but we didn't mark. France didn't qualify for the olympic games from Barcelona 1992. We are proud".
Camarasa (France): "My team worked very hard but when Netherlands was 7-5 we thought that the match was finish for us, but it didn't go that way The olympic pass is incredible: just four years ago we were playing for the european qualification tournament! It's very exciting that after twentyfour years we are going to the Olympic games".
Van Galen (coach Netherlands): "We played a good match. We were unluckly. Sometimes you win other you lost".
Romania-Italy 7-8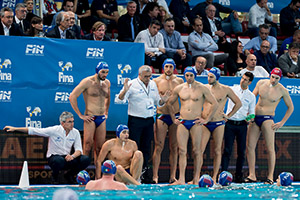 Romania: Stoenescu, Radu 1, Negrean 1, Gheorghe 3, Oanta, Busila, Teohari, Chioveanu, Goanta, R. Szabo, Ghiban 2, Popoviciu, Tic. Coach Stanojevic.
Italy: Tempesti, F. Di Fulvio 2, N. Gitto, Figlioli 2, Giorgetti, Bodegas, Velotto, Nora, C. Presciutti 1, S. Luongo 1, Aicardi 1, Baraldi 1, Del Lungo. Coach Campagna.
Referees: Stavridis (Gre) and Naumov (Rus).
Note: periods 0-2, 3-2, 3-3, 1-1. Red card by Goanta (R) in the fourth time. Goal in extra player: Romania 3/6 and Italy 3/9. Attendance 1500. For the Romania, goalkeeper start number 13, Tic.
Report. Italy almost always ahead, but with Romania on the shoulders until the end. Settebello closed the first period on 2-0 with goals by Di Fulvio after just 21 seconds and Baraldi in power play. Romania shortens with Ghiban, scoring the first goal after 12'05, and arrives to tie with Gheorghe. Italy backs to +2 (5-3) with goals by Di Fulvio in extraman and Aicardi; Presciutti maintains the double advantage; then Romania answers with two goals by Negrean and Ghiban for 6-6, but Figlioli closed the period on 7-6. In the fourth period Romania draws by Gheorghe; but Figlioli marks in extraman the Olympics goal at 7 seconds from the end.
Campagna (coach Italy): "I expected a battle. I said to the playes to be aggressive. On the preolimpic games everyone gives their soul, mostly during the decisive game. It was important to handle the tension and this success will certainly increase us. At the end i called a timeout. I asked the team to play with two centres and the forwards very large and to shoot with determination. It worked".
Bodegas (Italy): "We go to Rio to win. This win is a good start. We are twenty to get the possibility to go to the Olimpic games, we will fight for a place. This match was very phisically and psicologically tough. We won thanks to a good team work".

Velotto (Italy): "It was a really tough tournament. Victory is the only thing that matters. We are very happy for how it went today because the matchs became very hard".
photo by Giorgio Scala / deepbluemedia.eu