Italy and Hungary are the finalist of the men's water polo Olympic Games qualification tournament. Saturday played the semifinals for first and fifth place. Follows scoresheet, report and flash quotes.

Semi finals - Saturday 9 April
(35) Germany-Netherlands 7-8 (2-1, 3-0, 2-3, 0-4)
(36) Canada-Romania 14-7 (5-3, 4-0, 2-1, 3-3)
(37) Hungary-France 15-9 (4-2, 4-4, 2-1, 5-2)
(38) Spain-Italy 5-6 (1-0, 0-1, 2-1, 2-4)

Finals - Sunday 10 April
7th place / 11:00 L35 Germany-L36 Romania
5th place / 12:30 W35 Netherlands-W36 Canada
3rd place / 15:30 L37 France-L38 Spain
1st place / 17:00 W37 Hungary-W38 Italy

Germany-Netherlands 7-8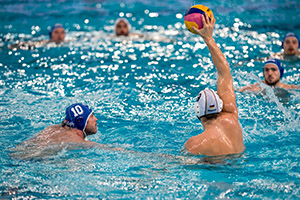 Germany: Kong, Bukowski, Schlanstedt, Real, Preuss 1, Jungling 3, Nossek, Schuler 1, Stamm 1 (pen.), Cuk , Restovic 1, Eidner, Hohne. Coach Weissinger.
Netherlands: Wagenaar, Frauenfelder, Winkelhorst 2, Van Der Horst, Gielen, Lindhout 2, Gottemaker, Reuten 1, Van Den Bersselaar, Spijker 1, Koopman 2, Lucas, Hoepelman. Coach Van Galen.
Referees: Bouchez (Fra) and Salnichenko (Kaz).
Note: periods 2-1, 3-0, 2-3, 0-4. Hohne (G) saved penalty by Reuten (N). Exclusion with substitution Schlanstedt (G) in the fourth time. Goal in extra player: Germany 1/2 + 1 penalty and Netherlands 3/5 + 1 penalty. For the Germany, goalkeeper start number 13, Hohne, and for the Netherlands goalkeeper start number 13, Hoepelman.

Report. Netherlands beats Germany with a break of 5-0 in the last 10 minutes of the match. They were decisive the goals by Reuten, Koopman in extraman, Spijker and twice Lindhout, the last in power play. Germany, instead, doesn't mark from 5'09 of the third period and passes from 5-1 of half match and then 7-3 to defeat.

Nossek (Germany): "Its hard to accept this match after yesterday's loss; everything is done now and is hard to play the day after a big loss, it was clear from todays slowless of the game. We aren't happy about this tournament because we wanted to go to the Olimpic games, we failed and we're very disappointed".
Van Galen (coach Netherlands): "This was a match that nobody wants to play. Yesterday we lost ad important opportunity. If you are disappointed is impossible to play. It's a strange situation".
Canada-Romania 14-7
Canada: Aleksic, Kudaba 1, Vikalo 1, Costantin Bicari 4, Boyd 4, Robinson, Lapins, Graham, Radojcic 1, Conway 2, Torakis 1, Mcelroy, Randall. Coach. Porzio.
Romania: Stoenescu, Radu, Negrean 1, Gheorghe 3, Oanta, Busila, Teohari, Chioveanu 1, Goanta, R. Szabo 1, Ghiban, Popoviciu 1, Tic. Coach. Stanojevic.
Referees: Putnikovic (Srb) and Galindo (Esp).
Note: periods 5-3, 4-0, 2-1, 3-3. Goal in extra player: Canada 5/8 and Romania 4/8. For the Canada, goalkeeper start number 13, Randall, and for the Romania goalkeeper start number 13, Tic.

Report. The final for fifth place will be between Netherland and Canada that beats easily Romania. Always ahead, Canada goes on 4-1 and reaches 10-3 at beginning of third period with four goals by Bicari and three by Boyd. Romania backs to moves the score after 14'35 for 10-4 that becomes at the end 14-7.
Porzio (coach Canada): "These matches are always the worse to play for both because there is delusion for the elimination. I said to my players that there is no time for being sad, but we have to play concentrated and having respect for the other team. Of course we are disappointed but we know that yesterday we were against a big team".
Alexsic (Canada): "It was difficult to play, to find the motivation. At the end we were here to win and it's done. I think we did very well until the quarter finals. It was our most important game but infortunatly we weren't satisfated about our performance".
Radu (Romania): "We played the match without any energy or desire. We can't concentrare after yesterday's loss, and because this matches are not impotant like the previous ones. This tournament wasn't good for us. We wanted to qualify to the Olimpic games but unluckily we didn't. Congratulations to the canadian team for the victory".
Hungary-France 15-9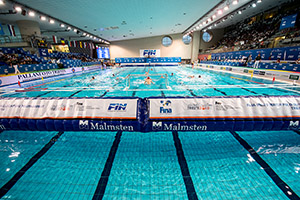 Hungary: Nagy, Zalanki, Manhecz 3 (1 pen), Erdelyi, Vamos 4, Hosnyanszky 3, Decker, Szivos, Dan. Varga 1, Den. Varga 1, Bedo, Harai 3, Bisztritsanyi. Coach Benedek.
France: Garsau, Saudadier, Kovacevic 2, Blary 1, Khasz, Simon 2, Crousillat, Izdinsky 2, Marzouki, Peisson 2, Tomasevic, Camarasa, Noyon. Coach Bruzzo.
Referees: Alexandrescu (Rou) and Willis (Rsa).
Note: periods 4-2, 4-4, 2-1, 5-2. Goal in extraplayer: Hungary 4/7 + 1 penalty and France 2/9. For the Hungary goalkeeper start number 13, Bisztritsanyi. Attendance 800.

Report. Hungary is the first finalist of the pre olympic tournament. Magyars open the match with a beak of 4-1 operated in the first 5 minutes of the match. Then go on 6-2, but on 7-3 suffer thee goals in a row by Blaty, Kovacevic and Simon in power play. Denes Varga and Vamos establish again il +3 (9-6). So Hungay plays easy and reachs the score of 13-7 with goals by Hosnyanszky in extra player and action, Vamos and Manhecz. Virtually ended the match.
Peisson (France): "This game was very difficult for us because Hungary is one of the most strong team in the world. For five games we gave everything. And yesterday we celebrated our qualification to the Olympic games. Phisically and mentally we are very tired. Our principal goal was to get a pass and it's done".
No statement by Hungary
Spain-Italy 5-6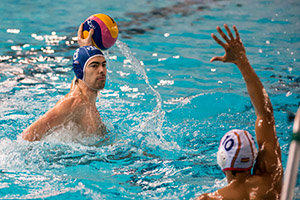 Spain: Aguilar Vicente, Munarriz Egana, Bustos Sanchez, Alarcon Tevar, Molina Rios, Minguell Alferez, Sziranyi Somogyi, Tahull Compte, Espanol Lifante 2, Fernandez Miranda, Mallarach Guell 2, Echenique Saglietti 1, Lopez Pinedo. Coach Hernandez.
Italy: Tempesti, F. Di Fulvio, N. Gitto, Figlioli 1 (pen.), Giorgetti 1, Bodegas 1, Velotto, Nora 2, C. Presciutti, Luongo 1, Aicardi, Baraldi, Del Lungo. Coach Campagna.
Referees: Peila (Usa) and Haentschel (Ger).
Note: periods 1-0, 0-1, 2-1, 2-4. Red card by Tahull Compte (S) in the third time. Exclusion with substitution Alacor Tevar (S) in the fourth time. Goal in extra player: Spagna 3/8 and Italy 2/9 + 1 penalty. Attendance 1500.
Report. Game slow; few ideas and desire to play. At half match the score is 1-1 for goals by Espanol in extra player and Giorgetti on action. In third period Spain marks twice gol in extraman by Espanyol and Echenique while Italy keeps on to mistake in power play (0/5). Anyway Nora marks two goals in a row for 3-3 at beginning of the last period; Figlioli gives the first advantage on penalty (4-3) and Luongo turns the first extra player action after six mistakes (5-3). Mallarach answers after few seconds, and 9'28 without goal (5-4), and then reaches the 5-5 with first gol to equal men. But at 7'18 Bodegas moves definitely the result on 6-5 in extramen.
Campagna (coach Italy): "Although we were under in score, the team manning physically and mentally. It was not easy back into the match, but the boys did well put a break of 4-0 maintaining concentration until the final seconds. The team has shown a will to win and has struggled to achieve that".
Bodegas (Italy): "It was an important match for the Olympic Games draw; so we stayed focused until the end. We are satisfied because it was important to let see our value because we have already lost two matches against Spain. I think we didn't play very well but, we did a good team play. This win it's so important for us and for our supporters".
Hernandez (coach Spain) "It was a very difficult match today because yesterday we played hard and we didn't have our centre. But anyway, we came here and we got the olympic pass. That's the most important thing".
photo by Giorgio Scala / deepbluemedia.eu