First day in Trieste for Men's Water Polo Olympic Games Qualification Tournament. Follows scoresheet, report and flash quotes.

DAY 1 Results - Sunday 3rd April
(A) RUS-CAN 6-7 (1-1, 2-2, 2-1, 1-3)
(A) FRA-HUN 7-13 (0-6, 4-2, 0-3, 3-2)
(A) SVK- ROU 11-13 (4-3, 2-5, 3-2, 2-3)
(B) ESP-NED 5-7 (3-2, 0-2, 0-2, 2-1)
(B) RSA-GER 4-23 (0-6, 2-4, 1-8, 1-5)
(B) ITA-KAZ 14-3 (4-1, 3-0, 4-1, 3-1)

Rankings. Group A: Hungary, Canada and Romania 2, Russia, France and Slovakia 0. Group B: Netherland, Germany and Italy 2, Spain, South Africa and Kazakhstan 0
Russia-Canada 6-7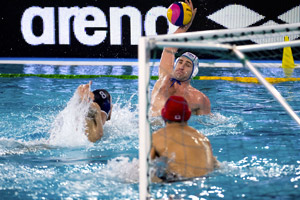 Russia: Fedotov, Giniiatov 1, Odintsov, Merkulov, Kharkov, Krasnov 1, Khalturin 3, Balakirev, Bychkov, Kholod, Lisunov 1, Magomaev, Korneev. Coach. Shagaev
Canada: Aleksic, Kudaba, Vikalo 1, Costantin-Bicari 1, Boyd 2, Robinson, Lapins, Graham 1, Radojcic, Conway 2, Torakis, Mcelroy, Randall. Coach. Porzio
Referees: Stavridis (Gre) e Galindo (Esp).
Note: periods 1-1, 2-2, 2-1, 1-3. Exclusion with substitution in the fourth time Magomaev (Russia) and Kubada (Canada). Goal in extra player: Russia 0/8 + 2 penalty and Canada 3/9. Attendance 200.
Report. In the first match of Group A Canada, coached by Pino Porzio, beat Russia 7-6 after a long time of balance and emotions. The match is resolved by an Canada's break in the fourth time while men led by Erkin Shagaev pay the inaccuracy in extramen (0/8) and a striking physical decline. Among the Canadians two goals by Conway and Boyd that scores in extramen the last goal at 22 seconds closing the game.

Coach Pino Porzio (Canada): "I couldn't have better hope for the beginning. This is my first experience like coach of an international team. It's a different culture but in Italy I feel at home. It was a difficult match against Russia. I think that they can get fouth place. Balanced game, very fougth and intense like every first match. We have made a good result but there's a long way to the end".
Graham (Canada): "Obviously I'm happy about the match because we won. we'll try to prepare even better fot the next match.
we are a strong team, but we want to improve ourselves. We'll play without payng attenction to the score to be quieter".
Kholod (Russia): "It was a difficult match. Canada has one of the best coaches. when the score was 6-4 for us we tried to remain quiet and defend well, but they promote their strongness. so we have to win all the next matches to be in the quarter final".
France-Hungary 7-13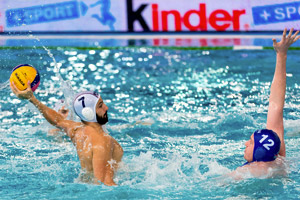 France: Garsau, Saudadier 1, Kovacevic, Blary, Khasz, Simon, Crousillat 1, Izdinsky 3, Marzouki, Peisson 1, Tomasevic 1, Camarasa, Noyon. Coach. Bruzzo
Hungary: Nagy, Zalanki 1, Manhercz, Erdelyi 2, Vamos 3, Hosnyanszky, Decker 1, Szivos 1, Da. Varga 3, De. Varga, Bedo 2, Harai, Bisztritsanyi. Coach. Benedek
Referees: Gomez (Ita) e Salnichenko (Kaz).
Note: periods 0-6, 4-2, 0-3, 3-2. Attendance 300. Goal in extra player: France 2/7 and Hungary 3/7.

Report. In the second match of Group A Hungary easily won 13-7 against France as imaginable. Magyars close first period on 6-0; Bleus try an impossible rise in the second period of the match (4-8), but then back in the deep. The best scorer of the match has been Daniel Varga, Vamos and Izdinski with 3 goals.
Benedek (coach Hungary): "We are the favorite team of this group and we have to shawn it. We started well taking us on 6-0 and closing the match. We had few difficulties in the second period. The Canada has gained more confidence after their victoy. At this point the direct match of tomorrow is already important".
Daniel Varga (Hungary): "I'm satisfied for this match against France because we won. We are a very good team. From the next match I expect another win. We came to Trieste for win every game. Canada is our next opponent, we want to win but each game starts from 0-0".

Bruzzo (coach France): "We reacted good despite this terrible first period. This is the our first match and we won't forgive it".

Izdinsky (France): "We didn't start well, we were very stressed out but we get back on attack at the second period. Well, now we have to win everything. We knew that the Hungary will be very difficult to beat, but now we have to concentrate on the next match".
Slovakia-Romania 11-13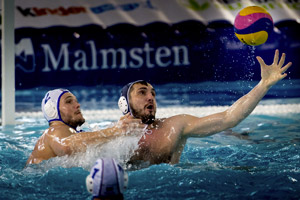 Slovakia: Kozmer, Famera 2, Zatovic 1, Furman, Durik, Balaz 2, Seman 2, Tkac 2, Uradnik 1, I. Szabo, Kolarik 1, Bruder, Hruska. Coach. Esteller Serrahima
Romania: Stoenescu, Radu 2, Negrean 6, Gheorghe, Oanta, Busila 1, Teohari, Chioveanu 1, Goanta, R. Szabo, Ghiban 2, Popoviciu 1, Tic . Coach. Stanojevic
Referees: Koryzna (Pol) e Smit (Ned)
Note: periods 4-3, 2-5, 3-2, 2-3. Attendance 350. Exclusion with substituion Zatovic (S) in the third time, Durik (S), Goanta (R) and Ghiban (R) in the fourth time. Goal in extra player: Slovakia 3/10 + one penalty e Romania 4/12 + one penalty.

Report. Beautiful, nervous and fought the last challenge of the group A with Romania that beats Slovakia 13-11. The match goes to rips with the Slovaks who start strong (4-2) but than undergo the return of Romanians, that go ahead from 5-4. Great match by Tiberiu Negrean that scored six goals.

Zatovic (Slovakia): "It was a difficult match. We wanted to win it in order to start the tournament in a positive way, but we didn't manage to win. We started good, than we get some easy goals and in the end we were enable to catch up the gap. We're only at the beginning of the tournament. We still have four games left in the group. We keep going."

Esteller Serrahima (coach Slovakia): "We have started very good but then we suffered the play more aggressive of Romania. They have a good defense and my team had some problems in attack. But it's only the beginning".

Stanojevic (coach Romania): "I'm satisfied of results but not of the game; we made some mistakes that a winning team shouldn't make, but luckily at the end we canceled them and won. This tournament is very difficult because it's wearisome to play every day and one of the facts that can distinguish the winning team is the physical resistance".

Radu (Romania): "We didn't play very well in the first period, but then we improve our levell. A victory is a victory even with some mistakes. The next matches will be difficult, we know that, but we have to win them".
Spain-Netherlands 5-7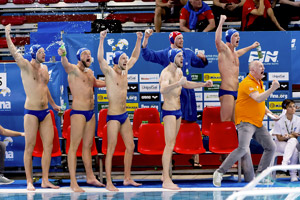 Spain: Aguilar Vicent, Munarriz Egana 2, Bustos Sanchez, Alarcon Tebar, Molina Rios 1, Minguell Alferez 1, Sziranyi Somogyi, Espanol Lifante, Tahull Compte, Fernandez Miranda, Mallarach Guell 1, Echenique Saglietti, Lopez Pinedo. Coach. Hernandez
Netherlands: Wagenaar, Frauenfelder, Winkelhorst 1, Van Der Horst, Gielen 1, Lindhout 2, Gottemaker, Reuten 1, Van Der Bersselaar, Spijker 2, Koopman, Lucas, Hoepelman. Coach. Van Galen
Referees: Peila (Usa) and Szekely (Hun).
Note: periods 3-2, 0-2, 0-2, 2-1. Attendance 300. In the second time Wagennar (N) saved a penalty by Lifante (S). Goal in extra player: Spain 4/10 + one penalty and Netherlands 4/10 + one penalty.
Report. The surprise of the opening day comes from the first game of Group B. The Netherlands, in fact, beats Spain 7-5, one of the most reliable teams to olympic qualification. The Iberians pay a high price for many errors in attack (zero goals scored in the second and third time) and for 3 on 10 in extramen. The "orange", drawn by Captain Spijker (two gosls for him), have shown a remarkable defensive solidity and the right cynicism.
Van Galen (coach Netherland): "We played well from the beginning. In the first period made a good difense, then kept the confidence. We beat a top team like Spain. So I hope that we can continue in this way until game six, beacuse it is the most important game. We must remain concentrate step by step".

Spijker (Netherland): "It was a very good victory and it's been long time since we beat Spain. I think last time was in 2006. We didn't expect to win this game so we're very happy and I guess that we have a good confidence for the rest of the tounament".
Hernandez (coach Spain): "Sometimes you lose but we have just to think about the game of tomorrow.
Netherland hasn't surprise us, we haven't yet understood the importance of this tournament. This tournament doesn't leave a chance to think about the past. we have to do better, win because there isn't the chance to back"

Molina Rios (Spain): "This victory is all about Netherland; this team has been able to take good advantage of our mistakes and they played with patience. We made an individual game, not a team's game; we can't afford. It didn't happen anything yet, It's just the first game. This defeat we hadn't planned but our gol don't changed".
South Africa-Germany 4-23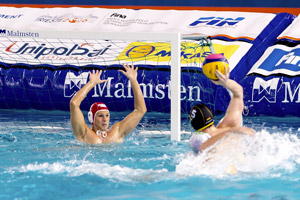 South Africa: Lewis, Card 1, Brown, Rumbelow, Downes, Schooling 1, Rabie, Rodda 1, Evezard, Purchase, Molyneux 1, Jagga, Madi. Coach Martin
Germany: Kong, Bukowski 4, Schlanstedt, Real 1, Preuss 4, Jungling 1, Nossek 2, Schuler 1, Stamm 2, Cuk 3, Restovic 3, Eidner 2, Hohne. Coach Weissinger
Referees: Terpenka (Can) e Bouchez (Fra).
Note: periods 0-6, 2-4, 1-8, 1-5. Attendance 400. Exclusion with substitution Card (S) in the third time. Goal in extra player: South Africa 2/7 + one penalty e Germany 9/12.

Report. The second match of group B becomes a workout for Germany that beat South Africa 23-4. The technical, tactical and athletic gap between the teams was very large. Germany scores with ten players on eleven: best scorers Bukowksi and Preuss with four goals. South Africa will play against Italy in the last match scheduled.

Weissinger (Germany): "Tomorrow the tournament really begins for us because we'll play with the teams aas our levell. Today playd well, but not at level for getting the olympic pass. The next matches will be tough, and everything will be possible".

Nossek (Germania): "We already knew that South Africa isn't on the same level of the othes teams. We have to think about the next matches. Tomorrow we'll have to win against Spain. It will be very difficult but we have to try. The success of Netherlands gives me hope and I think that with ours best game we can win. We expect a tough match but these are the qualifications to the Olympics Games and every match is like the final".

Paul Martin (coach South Africa): "Unfortunately we don't have a solid team. It costs a lot of money to get a better preparation. Founds from federation are not enough. Most of players don't play high level for two-three minutes more. Our biggest problem is that we have competion low profile: we play in Africa, we don't travel enough to have international experience. We come to this tournament to learn and grow and we'll be better".
Italy-Kazakhstan 14-3


Italy: Tempesti, F. Di Fulvio 2, N. Gitto, Figlioli 2, Giorgetti 1, Bodegas, Velotto, Nora 4, C. Presciutti 2, S. Luongo 2, Aicardi 1, Baraldi, Del Lungo. Coach Campagna.
Kazakhstan: Fedorov, Gubarev 1, Zhardan, Pilipenko, Ushakov 1, Shnider 1, Shakenov, Verdesh, Ukumanov, Rekechenskiy, Aubakirov, Pekovich, Shlemov. Coach Drozdov.
Referees: Putnikovic (Srb) e Naumov (Rus).
Note: periods 4-1, 3-0, 4-1, 3-1. Attendance 900. Exclusion with substitution Pilipenko (K) in the fourth time. Goal in extra player: Italy 2/7 + one penalty and Kazakhstan 1/9 + one penalty.

Report. The run-up to the olympic pass for Italy, who beat Kazakhstan 14-3, could not start better. Settebello starts immediately at full speed and at halftime leads already 7-1. The goal of 6-1 is a beautiful lob by Presciutti that finds an amazing angle. Kazakhstan don't reacts. Best scorer is Nora with 4 goals.

Nora (Italy): "It was impotant to have a nice starting with a team of lower level. Real match will start from tuesday. We started unit and fast. We are one of the better teams of the tournament, but happened today in Spain-Holland shows that nothing is obvious. We must keep concentrate to obtain the result that we set".

Drozdov (coach Kazakhstan): "Italy is a very strong team, we make a lot of mistakes in our defense and also in our attack. The game against Italy is very difficult and we don't play well".
photo by Giorgio Scala / deepbluemedia.eu