Fourth day in Trieste for Men's Water Polo Olympic Games Qualification Tournament. Follows scoresheet, report and flash quotes.

Rankings. Group A: Hungary 7, Canada and Francia 6, Romania 3, Russia 2, Slovakia 0. Group B: Italy, Netherlands and Spain 6, Germany and Kazakhstan 3, South Africa 0.

Wednesday 6th April
(B) KAZ-GER 11-11 (2-2, 3-3, 4-2, 2-4)
(B) RSA-ESP 1-15 (1-3, 0-6, 0-4, 0-2)
(A) CAN-ROU 10-10 (1-1, 6-4, 3-4, 0-1)
(A) RUS-HUN 8-18 (2-6, 3-5, 1-4, 2-3)
(A) SVK- FRA 8-10 (2-0, 2-4, 3-4, 1-2)
(B) ITA-NED 11-5 (3-1, 5-3, 2-0, 1-1)
Thursday 7th aprile, last day of groups
13:50 (A) FRA-CAN
15:10 (A) HUN- SVK
16:30 (A) RUS-R0U
17:50 (B) ESP-KAZ
19:10 (B) NED-RSA
20:30 (B) ITA-GER
Kazakhstan-Germany 11-11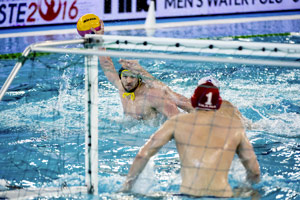 Kazakhstan: Fedorov, Gubarev 2, Zhardan, Pilipenko, Ushakov 3 (1 pen.), Shmider 1, Shakenov, Verdesh, Ukumanov 1, Rekechenskiy 2, Aubakirov, Pekovic 2, Shlemov. Coach Drozdov.
Germany: Kong, Bukowski, Schlanstedt, Real 1, Preuss, Jungling 1, Nossek, Schuler, Stamm 2, Cuk 4, Restovic 2, Eidner 1, Hohne. Coach Weissinger.
Referees: Peila (Usa) and Szekely (Hun).
Note: periods 2-2, 3-3, 4-2, 2-4. Exclusion with substitution Shmider (K) in the third time. Goal in extra player: Kazakistan 3/5 + 1 penalty and Germany 4/5.
Report. The game does not unlock until at half of third period when Kazakhstan goes on 9-7 with three goals in a row by Ushakov, Rekechenskiy and Pekovic. In the fourth period Germany shortens with Stamm and reaches the draw on 10-10 with two extra player goals by Real and Cuk. In the last seconds Cuk answers to Ushakov for the final score of 11-11.
Drozdov (coach Kazakhstan): "It was a very good, strong game. Germany played good and we made some big mistakes. Today, Germany shoot tree goals from center forward. I hope tomorrow we will play a little bit better."
Ushakov (Kazakhstan): "It was a very tough game, we aren't a young team, we have six players than are more than thirty years old, and is difficult to play everyday. We were close to the win but unfortunately we were unlucky. Tomorrow we'll play against Spain and it will be even more difficult, but it will be a great experience".
Weissinger (coach Germany): "We absolutely didn't aspect this difficulty against Kazakhstan. I'm really angry with my team beacause after yesterday where we lost two points we had to show a reaction but it was not really like we aspected. I'm really disappointed. We have to try everything against Italy, we know that's very difficult but there's no other possibility for us".
Cuk (Germany): "We already knew it will be diffucult because we didn't stared well this tournament, and now our self-confidence is low, we really wanted to win but unfortunately it went differently. Tomorrow we'll play against Italy and we have to do our best".
South Africa-Spain 1-15
South Africa: Lewis, Card, Brown, Rumbelow 1, Downes, Schooling, Rabie, Rodda, Evezard, Purchase, Molyneux, Jagga, Madi. Coach Martin.
Spain: Aguilar Vicente, Munarriz Egana, Bustos Sanchez 2, Alarcon Tevar 2, Molina Rios 5 (1 pen.), Minguell Alferez 3, Sziranyi Somogyi, Espanol Lifante, Tahull Compte 1, Fernandez Miranda, Mallarach Guell, Echenique Saglietti 2, Lopez Pinedo. Coach Hernandez.
Referees: Terpenka (Can) and Naumov (Rus).
Note: periods 1-3, 0-6, 0-4, 0-2. Goal in extra player: South Africa 0/4 and Spain 2/5 + 1 penalty.
Report. Only Spain. Fifteen goals rain down on South Africa. Molina marks 5, Minguell 3. For South Africa only one goals scored by Rumbelow for 3-1 of first time.
Martin (coach South Africa): "Play against Spain is an amazing esperience because it is one of the top national team in the world. We had a lot of proud and determination on defense. I think that we played well. Eveything is very closed at the moment, but I'd like to see Italy, Spain, Nederlands, Hungary and also Canada at the quarter finals".
Rumbelow (South Africa): "We knew that this match will be a tough one, but we tried to do our best. I think that the favourit teams like Italy, Spain, Hungary and Canada will be in the quarter finals and it will be good matches".
Molina Rios (Spain): "It was the simplest match in the tournament. It was very important to play well, not injuries and to stay concentrate for other matches which will be the most important. We tried to do the best, but in the first period we weren't at the top. What I really want is to go to Olympic games. I'm not interessed in becoming leader of top Scorer".
Hernandez (coach Spain): "It was a good match, we knew that South Africa is on another level. Tomorrow we expect a tough adversary, mostly on the phiscal view. We'll have to be careful because it'll be the last game of the group . We'll try to do our game and we'll try to use our speed".
Canada-Romania 10-10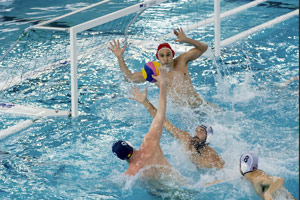 Canada: Aleksic, Kudaba 3, Vikalo, Costantin Bicari 1, Boyd 5, Robinson, Lapins, Graham, Radojcic, Conway, Torakis 1, Mcelroy, Randall. Coach Porzio.
Romania: Stoenescu, Radu 1, Negrean 3, Gheorghe 2, Oanta 1, Busila, Teohari 2, Chioveanu, Goanta 1, R. Szabo, Ghiban, Popovici, Tic. Coach Stanojevic.
Referees: Stavridis (Gre) and Galindo (Esp).
Note: periods 2-2, 5-3, 3-4, 0-1. Goal in extra player: Canada 2/5 and Romania 5/10. Attendance 300.
Report. Canada is ahead on 2-0 with two goals by Kudaba in 67 seconds, but Romania goes ahead on 3-2 with goals in a row by Gheorghe, Goanta in extra player and Teohari in the beginning of second poriod. Canada reacts and turns up on 7-5 with two goals by Boyd and Bicari and manages the advantage until 10-8. Then doesn't score for 9'33, defends to the bitter end but Romania reaches the tie on 10-10 with Tehoari at 1'53 before the end.
Porzio (coach Canada): "We played for long periods pretty well. We had the possibility to close the match, but we did mistake twice. How often happen they had the last chance to win the match but they didn't take advantage of the situation. We met a very strong team, like us, but maybe some players were better of us in experience and quality. It's a right result and the match was intense".

Boyd (Canada): "We knew they would fight really hard. They have a really strong centre and took a lot of exclusions. They had a lot of opportunities than us; we didn't take advantage of that but they did it".
Stanojevic (Coach Romania): "Tomorrow will be an open game, and the fact that the Russian team is a little bit better shouldn't be decisive. The most important fact will be the number of tecnical mistakes. We started todays game with a lot of mistakes, but thanks to our disipline and fighting spirit we were into the match again and taer a draw".
Radu (Romania): "We lost concentration in the second period and they took advantage of it, we had the last opportunity but unfortunately we didn't use it. Tomorrow we have to win to be fourth in the group. It will be a tough game because the Russian and us have the same goal"
Russia-Hungary 8-18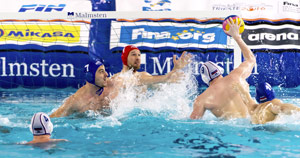 Russia: Fedotov, Giniiatov, Odintsov 1, Merkulov 1, Kharkov 4, Krasnov, Khalturin, Balakirev, Bychkov 1, Kholod, Lisunov 1, Magomaev, Korneev. Coach Shagaev.
Hungary: Nagy, Zalanki 3, Manhercz 2, Erdelyi 3, Vamos 2, Hosnyanszky 3, Decker, Szivos, Dan. Varga 2, Den. Varga 2, Bedo 1, Harai, Bisztritsanyi. Coach Benedek.
Referees: Putnikovic (Srb) and Willis (Rsa).
Note: periods 2-6, 3-5, 1-4, 2-3. Goal in extra player: Russia 2/5 and Hungary 7/8. Attendance 300.
Report. Hungary achives the match against Russia in few minutes. At 6th is on 5-1 with goals by Vamos, Denes Varga, Erdelyi and Hosnyanszky on action and by Daniel Varga in extra player. Then feed the advantage to +10. Despite the defeat, the best scorer of the match is the russian Kharkov with four goals.
Kharkov (Russia): "It was a very hard game. Tomorow we will fight for the fouth place against Romania. The loser is out of the Olympic games".

Benedek (coach Hungary): "We have only one target: the qualification for Rio de Janeiro. So we must win always. Against Canada we made a lot of mistakes, but in the days after we have improved our power. Play avery day is the greatest difficulty in this tournament".
Daniel Varga (Hungary): "It was an easy game, much easy that I excpeted. I guess russian team give up after the second period. Tomorrow, we have to win against Slovakia. We have to be the first at the group".
Slovakia-France 8-10


Slovakia: Kozmer, Famera 1, Zatovic 1, Furman, Durik 2, Balaz, Seman 1, Tkac, Uradnik 2, I. Szabo, Kolarik 1, Bruder, Hruska. Coach Esteller Serrahima.
France: Garsau, Saudadier, Kovacevic 1, Blary 3, Khasz, Simon, Crousillat 3, Izdinsky 1, Marzouki, Peisson, Tomasevic, Camarasa 2, Noyon. Coach Bruzzo.
Referees: Gomez (Ita) e Salnichenko (Kaz).
Note: periods 2-0, 2-4, 3-4, 1-2. Exclusion with substitution Bruder (S) in the third time. Goal in extra player: Slovakia 3/5 and France 1/4. Attendance 700.
Report. France beats Slovakia 10-8 and makes sure at least third place of group A. This is the third victory in a row of France that has started with a handicap of 3-0. Camarasa scores the first goal after 9'22 and opens the the comeback that brings on 4-3 in four minutes with the goals by Crousillat, again Camarasa and Blary. France gets the second break of 4-0 in the third period and goes on 8-5 with goals by Crousillat, Blary, Izdinsky in power play and Kovacevic in less of 3'.
Blary (France): "It was important to win this game to guarantee our qualification for the quarter finals. We are glad that we succeed it. Tomorrow, we are going to confront Canada. It will be a difficult game like the previous. We'll try to win to get at least the second position".
Camarasa (France): "It was a difficult match. We began very bad, going down 3-0. Then we got twice important break. Despite the victory, we could not play our water polo. Tomorrow the match will be tough because we are against a team that is tecnically and physically strong, but I want and we want to win!"
Italy-Netherlands 11-5
Italy: Tempesti, F. Di Fulvio, N. Gitto, Figlioli 4, Giorgetti 3, Bodegas, Velotto, Nora 1, C. Presciutti 1, S. Luongo, Aicardi 1, Baraldi 1, Del Lungo. Coach Campagna.
Netherlands: Wagenaar, Frauenfelder, Winkelhorst 1, Van Der Horst, Gielen, Lindhout 3 (1 pen.), Gottemaker, Reuten, Van Der Bersselaar 1, Spijker, Koopman, Lucas, Hoepelman. Coach Van Galen.
Referees: Koryzna (Pol) and Alexandrescu (Rou).
Note: periods 3-1, 5-3, 2-0, 1-1. Exclusion with substitution Velotto (I) and Van der Horst (N) in the fourth time. Goal in extra player: Italy 3/6 and Netherlands 4/9 + 1 penalty. Attendance 1000.
Report. It is another Italy - compared with the defeat against Spain - who beats Netherlands x-y and approaching to first place in the group B. Settebello starts very hard and marks by Nora, twice Figlioli in power play and in action goal for the first 3-0 in four minutes. Then opens the second period again with Figlioli for 4-1 and manages the advantage arriving on 10-4 with goals by Aicardi, twice Giorgetti, Figlioli and Presciutti. Nethelands doesn't score for 12 minutes until at 10-5 of Lindhout in extra player at beginning of fouth period. At the end of the match will be 4 goals by Figlioli and 3 goals by Giorgetti.
Campagna (coach Italy): "I knew that we would meet difficulties in the tournament because the match against the Spain is arrived after two simple games. Mistakes helped us to improve our game and increase the attention level. The match against Germany can give us the first position and prepare in the best way the quarter final".
Presciutti: "We had to recover from the bad last performance. We are happy because we found game and intensity. This must be our normality. The path is not finish yet because we expect Germany and then the resolved quarter finals".

Galen (coach Netherlands): "The performance of my team wasn't so really good: we did a lot of mistakes in difense and Italy knew how to take advantage to our mistakes. At the moment our position makes me satisfied but today wasn't our best game. We beat South Africa so we are second in the goup and that's a good result of a young and unexpeienced team like I have".
Lindhout (Netherlands): "Italy is a very strong team; we are happy to have played against it. This match was a good experience for us. Italy has still got very good scores in the matches".
photo by Giorgio Scala / deepbluemedia.eu