Fifth day in Trieste for Men's Water Polo Olympic Games Qualification Tournament. Follows scoresheet, report and flash quotes.

Rankings. Group A: 1. Hungary 9, 2. Canada 8, 3. Francia 6, 4. Romania 4, 5. Russia 3, 6. Slovakia 0. Group B: 1. Italy* 8, 2. Netherlands** 8, 3. Spain 8, 4. Germany** 3, 5. Kazakhstan 3, 6. South Africa 0.
* by BL 9.6.3.2
** by BL 9.6.3.1
Day 5 - Thursday 7 April
(A) FRA-CAN 5-13 (0-1, 1-2, 1-3, 2-6)
(A) HUN- SVK 16-7 (5-4, 5-1, 2-1, 4-1)
(A) RUS-ROU 8-8 (3-1, 1-3, 3-3, 1-1)
(B) ESP-KAZ 16-4 (3-2, 3-1, 7-0, 3-1)
(B) NED-RSA 17-7 (4-2, 3-3, 4-0, 6-2)
(B) ITA-GER 12-6 (1-1, 4-1, 4-1, 3-3)

Quarter finals - Friday 8 April
(31) 16:00 1A Hungary-4B Germany
(32) 17:30 2A Canada-3B Spain
(33) 19:00 3A France-2B Netherlands
(34) 20:30 4A Romania-1B Italy

Semi finals - Saturday 9 April
(35) 16:00 L31-L33
(36) 17:30 L32-L34
(37) 19:00 W31-W33
(38) 20:30 W32-W34

Finals - Sunday 10 April
7th place / 11:00 L35-L36
5th place / 12:30 W35-W36
3rd place / 15:30 L37-L38
1st place / 17:00 W37-W38

France-Canada 5-13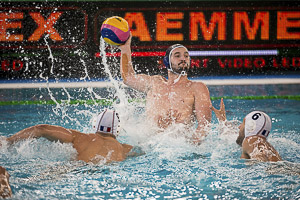 France: Garsau, Saudadier, Kovacevic, Blary, Khasz, Simon 1, Crousillat 2, Izdinsky, Marzouki 1, Peisson, Tomasevic, Camarasa 1, Noyon. Coach Bruzzo.
Canada: Aleksic, Kudaba, Vikalo 1, Costantin Bicari, Boyd 1, Robinson 1, Lapins 4 (1 pen.), Graham 2, Radojcic, Conway, Torakis 1, Mcelroy 3, Randall. Coach Porzio.
Referees: Gomez (Ita) and Putnikovic (Srb).
Note: periods 0-1, 2-3, 1-3, 2-6. Garsau (F) saved penalty shot by Costantin Bicari in the third time. Red card by Blary (F) in the third time and by Crousillat (F) in the fourt time. Exclusion with substitution Peisson (F) in the third time. Goal in extra player: France 2/6 and Canada 3/8 + 2 penalties

Report. Canada goes on 3-0 with goals in extra player by Boyd, Robinson and McElroy. France doesn't mark for 14'10; then moves the score with Marzouki in power play for the 3-1. Canada keeps the lead and reachs the 7-3 with goal by Lapin at the end of third period. Then strechs again on 13-5 by means of the last period of 6-2.
Porzio (coach Canada): "We rappresent a serious country and we honor our commitments, we did our duty and until now we played an awesome tournament. If we're going to play against Spain we'll meet a big team. We'll play our chances".
Graham (Canada): "Before we started the qualification tournement our first goal was to make the quarter finals. Today, we get the best position possible in ranking. Our second goal is to qualify for the Olympic games and tomorrow we will try."
Camarasa (France): "I'm disappointed how we played. It was a tough game. Canada is a stong team. We'll concentate for quarter final. It'll be a battle".
Hungary-Slovakia 16-7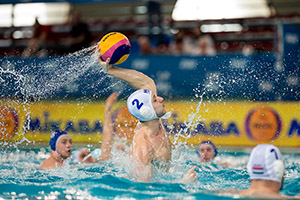 Hungary: Nagy, Zalanki 2, Manhercz 3, Erdelyi 3, Vamos 1, Hosnyanszky 1, Decker, Szivos, Dan. Varga 4, Den. Varga 1, Bedo, Harai 1, Bisztritsanyi. Coach Benedek.
Slovakia: Kozmer, Famera 1, Zatovic, Furman, Durik 1, Balaz 1, Seman, Tkac 1, Uradnik 1, I. Szabo, Kolarik 2, Bruder, Hruska. Coach Esteller Serrahima.
Referees: Smit (Ned) and Salnichenko (Kaz).
Note: periods 5-4, 5-1, 2-1, 4-1. Goal in extra player: Hungary 1/2 and Slovakia 3/6.
Report. The Slovak resistance lasts only one period which end on 5-4 for Hungary. Then Magyars push and leading 10-5 with captain Daniel Varga author of four goals in nine minutes. In the second part of the match Hungary reachs the +9 for the final 16-7. Hungary wins group A and tomorrow, at 16 o' clock, will play against the fourth ranked in the group B.
Benedek (Coach Hungary): "The beginning of this game was very difficult. We were under pessure, because we played for the firts place, and they weren't. After the first period we took control of the game and we played very well. I think that we are going to play agaist Germany tomorrow. It will be tough because of the pessure and the fact that the Olimpic games are a deam fo every player".

Denes Varga (Ungheria): "Be first was our main goal so we had to win. I'm satisfited and now we are only concentrated on tomorrow. For tomorrow, I except victory because if we do our best, if we do our tactic, we are a better team than Germany".
Serrahima (coach Slovakia): "It was a very hard tournament. We play every day. The players were more tired so it was difficult for us. Slovak waterpolo doesn't have a lot of players and it's a problem. We arrived here with two players under eighteen years old. And from 16 to 21 there's no player of international level in Slovakia".

Kolarik (Slovakia): "I'm not satisfied how we played. We had a lot of mistakes and we weren't concentate. We were very happy about the chance to play for the qualifications to the Olimpic Games, and we tried our best. However this tournament is a good expeience, there are a lot of good teams and good games".
Russia-Romania 8-8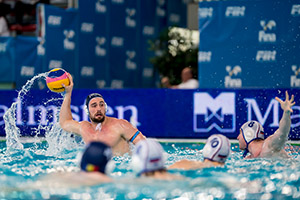 Russia: Fedotov, Giniiatov 1, Odintsov 1, Merkulov 1, Kharkov 2, Krasnov, Khalturin 3, Balakirev, Bychkov, Kholod, Lisunov, Magomaev, Korneev. Coach Shagaev.
Romania: Stoenescu, Radu, Negrean 2, Gheorghe 1, Oanta 1, Busila, Teohari 1, Chioveanu, Goanta 3, R. Szabo, Ghiban, Popoviciu, Tic. Coach Stanojevic.
Referees: Haentschel (Ger) and Stavridis (Gre).
Note: periods 3-1, 1-3, 3-3, 1-1. Goal in extra player: Russia 2/4 and Romania 4/8. Attendance 300.

Report. Amazing match that decides the fourth place of Group A. Russia goes ahead 3-0 and resists up to 4-2, then suffers the overtaking of Romania who passes on 5-4 and keeps the minimal advantage until 7-6. At the end of the third time Russia reach the tie and at beginning of fourth period goes in the lead 8-7. Teohari marks the 8-8 at 2'01 before the end and Romania goes to quarter final.
Stanojevic (Coach Romania): "Today we played the worst match on this tournament, but in other occasions we deserved more. Sport takes away and gives but at the end the real value of a team always comes out. It was a difficult game; the tournament is very tiring. We saw that today in the way the teams played. We're very happy about the possibility to play against Italy tomorrow, it's a great team, but we won't surrender. I like this tournament because the teams are very balanced and everyone has a possibility to express their qualities".
Radu (Romania): "We played very badly but in the end we managed to tie. They had a great advantage. We were able to get into the match in the last two periods. Now we expect Italy. They are the favorites but we will give our best".
Kholod (Russia):"It was an hard game. Romania is a strong team. We weren't good at defense. Our tournament is finished.
I'm so sad".
Spain-Kazakhstan 16-4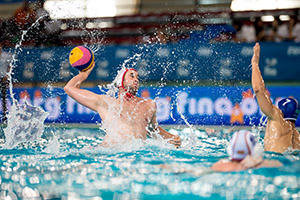 Spain: Aguilar Vicente, Munarriz Egana 3, Bustos Sanchez 2, Alarcon Tevar, Molina Rios 1, Minguell Alferez 2, Sziranyi Somogyi 1, Espanol Lifante 1, Tahull Compte, Fernandez Miranda, Mallarach Guell 2, Echenique Saglietti 4, Lopez Pinedo. Coach Hernandez.
Kazakhstan: Fedorov , Gubarev 2, Zhardan 1, Pilipenko, Ushakov 1 (pen.), Shmider, Shakenov, Verdesh, Ukumanov, Rekechenskiy, Aubakirov, Pekovich, Shlemov. Coach Drozdov.
Referees: Bouchez (Fra) and Koryzna (Pol).
Note: periods 3-2, 3-1, 7-0, 3-1. Exclusion with substitution Pilipenko (K) in the fourth time. Goal in extra player: Spain 7/11 and Kazakhstan 1/7 + 1 penalty.
Report. Easy game for Spain that goes ahead 3-0 in five minutes with goals by Sziranyi, Munarriz and Echenique. Then controls the reaction of Kazakhstan and arrives at half match on 6-3. In the third period Spain puts a break again and flys on 13-3. Kazakhstan backs in goals after 10 minutes (13-4) but Spain keeps on shoting until 16-4.
Hernandez (coach Spain): "I expect a quarter final hardly and where emotions will act a big role. We are in shape".
Minguel Alferez (Spain): "This match wasn't too important. I think Kazakhstan is tired after all the matches so it was simple for us to win. At the quarter final we will play against Canada. We are prepared for a difficult game because Canada is very strong, they win all matches they play. In general the tournament is difficult and balanced".
Drovdov (coach Kazakhstan): "It was a very bad game for us. After first quarter we were 7-0 so I put some young players and they try to make the difference. We may analyze about this tournament and this experience. For future we will change team because some players have finished their career. He hope you will see a better Kazakhstan".
Netherlands-South Africa 17-7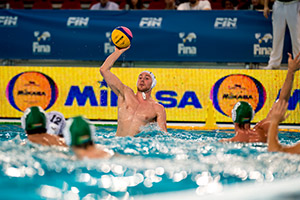 Netherlands: Wagenaar, Frauenfelder 1, Winkelhorst 2, Van Der Horst 2, Gielen 2, Lindhout 4, Gottemaker 1, Reuten 3, Van Der Bersselaar, Spijker 1, Koopman 1, Lucas, Hoepelman. Coach Van Galen.
South Africa: Lewis, Card 1, Brown 2, Rumbelow, Downes, Schooling, Rabie 1, Rodda 1, Evezard 1, Purchase, Molyneux, Jagga 1, Madi. Coach Martin.
Referees: Naumov (Rus) and Szekely (Hun).
Note: periods 4-2, 3-3, 4-0, 6-2. Exclusion with substitution Rumbelow (S) in the third time. Goal in extra player: Netherlands 6/13 and South Africa 0/2. Attendance 600.

Reports. It had to be a training session; it has become a real match after South Africa took the lead on 2-0 and remained attached to the Netherlands (6-5) which then ran away. In the second part of the match, Netherlands reaches the 12-5 with a beak of 5-0 and marks with nine outfield players. South Africa backs in gol after 15 minutes.
Van Galen (coach Netherlands): "All the players were thinking about quarter finals and for this reason the game didn't start well. After two periods we said that we have to focus on this game. I think that we have the 50% of probability for to win the match against France".
Gielen (Netherland): "We came later into this game. We tough for the game against France tomorrow. We wanted to start strong at two quarters but we didn't have the start we imagine because. At the and we tried to keep on coming up. The match against France is gonna be really hard, all game is very closed. We are a little bit tired but I think we have a real chance, we have a good hope".
Lewis (South Africa): "It was a very good tournament. We are amator players coming playing and learning. I really enjoy it. It's an incredible experience".
Italy-Germany 12-6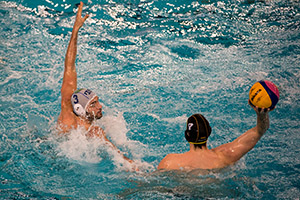 Italy: Tempesti, F. Di Fulvio, N. Gitto 2, Figlioli 4, Giorgetti 1, Bodegas, Velotto, Nora 1, C. Presciutti, S. Luongo 3 (1 pen.), Aicardi 1, Baraldi, Del Lungo. Coach Campagna.
Germany: Kong, Bukowski, Schlanstedt, Real, Preuss 1, Jungling, Nossek, Schuler, Stamm 2, Cuk 2, Restovic, Eidner 1, Hohne. Coach Weissinger.
Referees: Terpenka (Can) and Peila (Usa).
Note: periods 1-1, 4-1, 4-1, 3-3. Kong (G) saved penalty shot by Giorgetti (I) in first period. Goal in extra player: Italy 1/5 + 2 penalties and Germany 1/5. Attendance 1100.
Report. Italy sufferers at beginning, closes the first time on 1-1, failed a penalty with Giorgetti, but then moves easily the score. Settebello puts one break of 4-0 and two of 3-0. The best scorer of the match is Figlioli with four goals. Italy will play against Romania in quarter final.
Campagna (coach Italy): After some uncertainty, the match went off smoothly. When we reached a reassuring margin of advantage, I asked the boys not to force. Romania is a team that deserves respect. They defend well and are very aggressive. Radu is a very strong center and has at his side players of experience and quality. We will have to be determined".
Weissinger (coach Germany): "It was difficult for us to play against Italy here in Italy. I think both teams were concentrated for tomorrow. The result is okay for us. We will do our best tomorrow. Probably we have no chance against Hungary but we have really nothing to lose and we will do our best".
photo by Giorgio Scala / deepbluemedia.eu